UC Santa Cruz home
Quick Start Guides
Campus Directory
Search for people, departments, or e-mail addresses.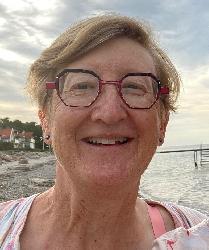 Karen M. Ottemann
Faculty

Professor
831-459-3482 (Office)
831-459-4780 (Lab)
831-459-3524 Fax
Physical & Biological Sciences
PBSci-Microbiology & Environmental Toxicology Department
Institute of Marine Sciences
Regular Faculty
Biomed 238
METX
1156 High Street
Santa Curz CA 95064

• B.S, University of California, Davis (Bacteriology)
• Ph.D. in Microbiology and Molecular Genetics, Harvard University (with John Mekalanos)
• Postdoctoral Fellow, University of California, Berkeley in Biochemistry (with Daniel E. Koshland, Jr.)
Infection by the ulcer-causing bacterium Helicobacter pylori
Bacterial chemotaxis
How pathogenic bacteria such as Helicobacter pylori use environmental cues to establish infection.

For pathogenic bacteria to set up an infection, they must know that they have arrived at the proper location. Karen Ottemann's laboratory investigates how bacteria translate chemical and physical cues in their host environment into an advantageous response.

Ottemann lab members are particularly interested in how pathogens use swimming during infection, using the bacterium Helicobacter pylori as a model for this ability. This pathogen infects some 3 billion people and can lead to serious disease, including ulcers and cancer. Bacteria do not swim at random, but instead direct their motility (chemotaxis) by the activity of sensing proteins called chemoreceptors. The chemotaxis system thus allows us to examine the types of cues sensed by pathogens.
Bacteriology
Molecular microbiology
BIOL/METX 119: Microbiology
BIOL/METX 119L Microbiology Lab
METX 200: Interdisciplinary Approaches in Environmental Toxicology
METX 206A: Advanced Microbiology
This campus directory is the property of the University of California at Santa Cruz. To protect the privacy of individuals listed herein, in accordance with the State of California Information Practices Act, this directory may not be used, rented, distributed, or sold for commercial purposes. For more details, please see the university guidelines for assuring privacy of personal information in mailing lists and telephone directories. If you have any questions please contact the ITS Support Center.