UC Santa Cruz home
Quick Start Guides
Campus Directory
Search for people, departments, or e-mail addresses.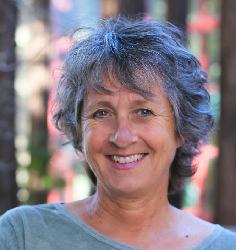 Julie H Guthman
Faculty

Professor
831-459-2726 (office)
831-459-2371 (message)
831-459-4979 Fax
Social Sciences Division
Social Sciences Division
Sociology Department
Feminist Studies Department
Community Studies Program
Professor
Regular Faculty
209 Oakes College
S2015: Mondays, 1-3pm
EPC/Community Studies
1156 High Street
Santa Cruz CA 95064

Sustainable agriculture and alternative food movements, international political economy of food and agriculture, politics of obesity, environmental health, political ecology, race and food, critical nutrition, and critical human geography.
2014: Agrarian Dreams: the Paradox of Organic Farming in California. University of California Press. 2nd edition
2007: The Polanyian way? Voluntary food labels as neoliberal governance. Antipode 39 (3)
2008: Thinking inside the neoliberal box; the micropolitics of agro-food philanthropy. Geoforum 39(3)
2008: Neoliberalism and the making of food politics in California. Geoforum. 39(3)
2008 "If they only knew:" Colorblindedness and universalism in California alternative food institutions. The Professional Geographer 60(3)
2008: Bringing good food to others: Investigating the subjects of alternative food practice. Cultural Geographies 15(4)
2009: Teaching the politics of obesity: Insights into neoliberal embodiment and contemporary biopolitics, Antipode 41 (5)
2011: Weighing In: Obesity, Food Justice, and the Limits of Capitalism, UC Press
2012: Opening up the black box of the body in geographical obesity research: toward a critical political ecology of fat. Annals of the Association of American Geographers
2014: Doing justice to bodies? Reflections on food justice, race, and biology. Antipode 46(5)
2013: The implications of environmental epigenetics: A new direction for geographic inquiry on health, space, and nature-society relations, Progress in Human Geography 37(4) (Becky Mansfield, co-author)
2013: Too much food and too little sidewalk? Problematizing the obesogenic environment thesis Environment and Planning A 45 (1)
2013, Fatuous measures: the artifactual construction of the obesity epidemic, Critical Public Health 23(3)
2014, guest editor, special issue on Dietary Advice and Its Discontents, Gastronomica 14(3)
ENVS 196, Senior Seminar: Transforming Food
CMMU 186: Agriculture, Food and Social Justice
CMMU 145: Globalization and its Discontents
CMMU 149. Political Economy of Food and Agriculture
ENVS 280: Advanced Reading Seminar
ANTH 247: Critical Perspectives on Nutrition
This campus directory is the property of the University of California at Santa Cruz. To protect the privacy of individuals listed herein, in accordance with the State of California Information Practices Act, this directory may not be used, rented, distributed, or sold for commercial purposes. For more details, please see the university guidelines for assuring privacy of personal information in mailing lists and telephone directories. If you have any questions please contact the ITS Support Center.